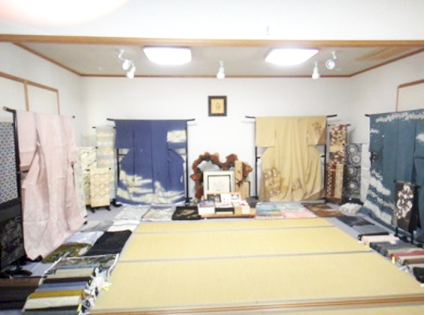 Hello everyone!
Today, I would like to introduce to you, a part of my work: KIMONO Exhibition which has just started again this week at my shop.
Usually we sell KIMONOs and its fabric in stock to our customers who visit our shop, but during the KIMONO Exhibition, we invite them to our shop and have them discover very unique products that we borrowed from whole sellers or manufacturer. These products are very precious that you rarely see.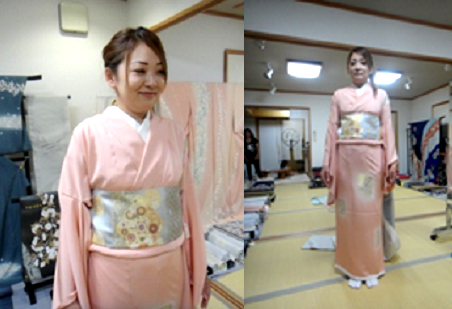 At the exhibition, you can try on your favorite KIMONOs that are hand-basted or can even try on your favorite KIMONO fabric itself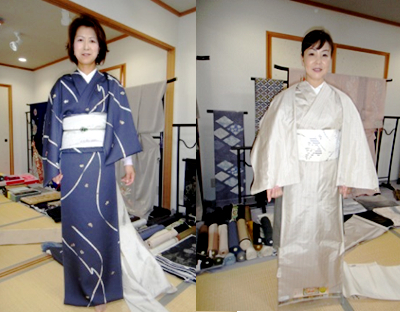 It is usually a rolled cloth but by a special fitting technique which only professionals can do, you can literary "wear" the KIMONO fabric by fixing it with clips or ropes as if you put on a real KIMONO.
After selecting your KIMONO or its fabric, I pick up most suitable OBI (a belt for KIMONO) and other KIMONO accessories such as an OBIJIME (a decorated sash in order to tie an OBI firmly) or an OBIAGE (a shawl which is tied around the top edge of the OBI to hide the "bustle" which is used to keep the shape of OBI knot).
In KIMONO, color and design coordination is very important, so when I select all these things for my clients, I am always concerned with the impression that the KIMONO will give to others, and which should be elegant and of good sense. I also very much care the point if my client could feel excitement in the KIMONO.