Hi everyone!
Today, let me introduce my family. Currently I live with my husband, my father and two cats.

My husband is President of our KIMONO company and he will be 55 years old this month. Happy birthday Takehiko-san!
My father is a 92 year-old lively gentleman. He loves to ride his bicycle through the town.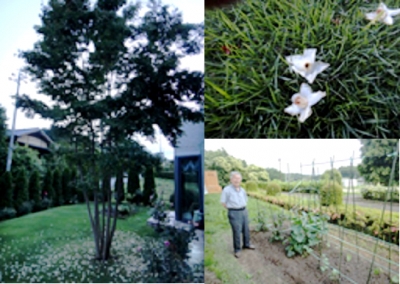 He takes care of our garden, pruning the rose trees and cleaning fallen petals of HIMESHARA tree (tall stewartia) which are in full broom these days.
HIMESHARA is also called Summer Camellia and its white flowers are so lovely.
We have this tree in the middle of the garden as a symbol tree so it looks like reigning the entire garden with dignity.
By the way, my father loves beef very much and you know that recent data shows that Japanese people with long life live on meat!

Finally my two cats who are Ragdolls, called Ronald (♂) and Milk (♀). They are brother and sister and already 11 years old so a little bit older but still enjoy nuzzling my face. They understand human language. When I say "Uh oh, who wants to be in trouble?" catching that they try to open the door to enter into my husband's room, they sneak away!